Press Release – New Womens Soccer Head Coach
Back to All Articles
Press Release – New Womens Soccer Head Coach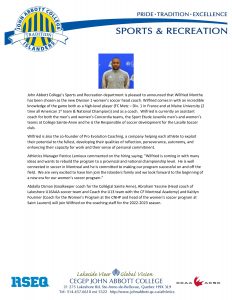 John Abbott College's Sports and Recreation department is pleased to announced that Wilfried Monthe has been chosen as the new Division 1 women's soccer head coach. Wilfried comes in with an incredible knowledge of the game both as a high level player (FC Metz – Div. 1 in France and at Maine University (2 time all American 1st team & National Champion)) and as a coach. Wilfried is currently an assistant coach for both the men's and women's Concordia teams, the Sport Etude Juvenile men's and women's teams at College Sainte-Anne and he is the Responsible of soccer development for the Lasalle Soccer club.
Wilfried is also the co-founder of Pro Evolution Coaching, a company helping each athlete to exploit their potential to the fullest, developing their qualities of reflection, perseverance, autonomy, and enhancing their capacity for work and their sense of personal commitment.
Athletics Manager Patrice Lemieux commented on the hiring saying; "Wilfried is coming in with many ideas and wants to rebuild the program to a provincial and national championship level. He is well connected in soccer in Montreal and he is committed to making our program successful on and off the field. We are very excited to have him join the Islanders family and we look forward to the beginning of a new era for our women's soccer program."
Abdalla Osman (Goalkeeper coach for the Collégial Sainte Anne), Abraham Yassine (Head coach of Lakeshore U16AAA soccer team and Coach the U13 team with the CF Montreal Academy) and Kaitlyn Fournier (Coach for the Women's Program at the CNHP and head of the women's soccer program at Saint Laurent) will join Wilfried on the coaching staff for the 2022-2023 season.
Prev