Back to All Articles
Awards Night 2019-20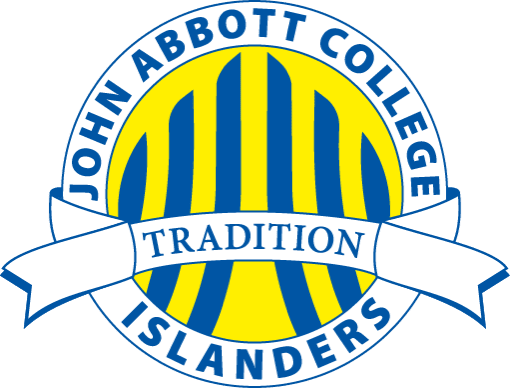 Tyler Tweedie Smith is honoured with the Jeff Mills Memorial Award
After completing over 5 seasons at John Abbott with the Men's Volleyball team, Tyler was a unanimous choice to receive the Islanders top award. His dedication to the team/program/school were unparalleled. He has even joined the coaching staff this past semester. Coach Ramgulam had this to say about this year's recipient, "Tyler was our leader on the court, off the court, online, offline, at practice, at games, he made my coaching job easier."
Female and Male Outstanding Performance Winners
Ana Mendez, from the Women's Basketball team, and Elijah Williams, from the Football team, take home these honours this year. Mendez, a third year player, had her team in first place with a 13-1 record ready for a deep playoff run before the COVID pandemic shut down the team's season. Williams, also in his third year, won the Bol d'Or with the football team and was named the game's MVP. Both players were also recognized as league all-stars this season.
Female and Male Top Rookie Winners
Right winger Ann Frederik Naud of the Hockey team and defensive half-back Ashton Miller-Melançon of the Football are this year's rising stars. These two are no strangers to competition and were key parts in both of their team's success. Naud scored 12 goals and added 14 assists in 22 games this season and was selected as the Top Rookie in the RSEQ league this year.  Meanwhile, Miller-Melançon lead his team in tackles, sacks and interceptions as well as being selected on the league all-star team.  We look forward to see what they will do next year.
Academic Achievements
1 – Louis Trichardt Hildebrand (XC)
A number of awards are given out for both individuals and teams. The Islanders have 67 graduating student athletes with an average over 80+. The top student athlete is Cross Country runner Louis Tricardt Hildebrand with an average above 97% in Honours Science. Each team recognizes the returning player who had the most improvement in the past year. Jake Saikaley, from the Football team, has the best academic improvement, which earns him the AASIP achievement award. The team with the best academic improvement is the Men's Volleyball team with an increase of 8.6%, while the top academic team is the Cross Country team, with an overall average of 82.31%. The Academic coaching staff of the year is from the Women's Soccer team; Mark Rupnik, Emanuela Fabrizio and Melissa Tomecz.
Congratulations to all our 80% + graduating students:
BASEBALL

Rosati, Massimo
Cardona, Ronald Justin

FOOTBALL

Piazza, Domenico
Lipari-Couture, Maxime
Blanchard, Louis
Naderi, Shahin

FLAG FOOTBALL
GOLF

Gerace, Joseph
Romancew, Emily

LACROSEE
MEN'S BASKETBALL

Eisenberg, Max
Almanza, Michael

MEN'S SOCCER

Fitzsimons, Tiernan
Gherbi, Azzeddine
Di Teodoro, Marco
Fleming, Shayne
Habimana, Wilfred Elie
Bélanger-Truba, Jeremy
David, Tyrone
Delli Quadri, Francesco
Alkot, Fady
Weldon, Jacob
Weldon, Michaël

MEN'S VOLLEYBALL

Lee, James
Campbell, Matthew
Semke, Daniel
Ma, Brandon
Christopher, Joshua

SWIM

Lafrance, Emilie
McRae, Robert
Rozon, Sydney
Goblot, Eva
Jarry, Marie-Ève
Frost, Kate
Godden, Zachary
Smith, Jonah
Geoffroy, Mathieu
Cusson, Seth
Cousineau, Élody
Lapierre, Charles
Huang, Han Zhang

SWIM/CROSS COUNTRY

Hoge, Jasmine
Brochu, Juliette
Munger, Anne-Sophie

WOMEN'S BASKETBALL

O'Neill, Julie
Mendez-Mourelle, Ana
Lytvyn-Male, Sofia

HOCKEY
WOMEN'S RUGBY

Marier, Sophie
Neely, Sophie
Gauthier, Amelia
Stevens, Poppy

WOMEN'S SOCCER

Arkorful-Romano, Katelyn
Martinez-Hawa, Kamryn
Bertagnolli, Lara
Bertagnolli, Jena

WOMEN'S VOLLEYBALL

MacAuley, Dominique
Bonkova, Gabriela\
Simoneau, Dominique

CROSS COUNTRY

McMullen, Ella Megan
Gorman, Shawn-Glenn
Marcoux, Jérémie
McClure, Sean
Mallais-De Luca, Annabel
Halpin, Gabrielle
Wolfe, Evan
Hildebrand, Louis Trichardt
Congratulations to our team AASIP Academic Award winners:  BASEBALL: Boyer, Brandon
FOOTBALL: Saikaley, Jake
FLAG FOOTBALL: Schneider, Lauren
GOLF: Odle, Zaire
LACROSSE: Allard, Anthony
MEN'S BASKETBALL: Almanza, Michael
MEN'S RUGBY: John, Liam
MEN'S SOCCER D1: Mindra, Edis
MEN'S SOCCER D2: Delli Quadri, Francesco
MEN'S VOLLEYBALL: Tyndall, Dylan
SWIM Cousineau, Élody
WOMEN'S BSKETBALL: Owusu, Girlie
HOCKEY: Bakopanos, Victoria
WOMEN'S RUGBY: Leroux, Zenith
WOMEN'S SOCCER: Arkorful-Romano, Katelyn
WOMEN'S VOLLEYBALL: Dash, Grace
CROSS COUNTRY Taylor, James
Team of the Year
This year the Football team earns this recognition for bringing home the Bol d'Or with a win in Thetford Mines over CEGEP Edouard Montpetit. This is the first victory in 18 years for JAC after being runner up the past two seasons.
Coaching Staff of the Year
This year, the Coaching Staff of the Year award goes to Mike Hickey and Jaime Guy from the women's basketball team.  The team had an incredible 13-1 record, their best record in many years, won the regular season banner and was peaking at the right time to make a provincial championship run before the Corona virus had other plans.
The Doc Legaré Memorial Award
Named after Dr. A Legaré, a former JAC team physician who passed away in 2008, the Doc was all about community.  This award honors his memory and his commitment to our program as it is awarded to the team with the best commitment to community service.  For the 4th year in a row, the award goes to the Hockey team. They are heavily involved in youth programs for girls and their moms, as well as helping out a variety of charitable foundations.
Departmental Award
This year, the Sports and Recreation Department would like to thank Lester Torres from the IT department at JAC for his invaluable assistance. He was in fact the one who spear headed the whole streaming operation back when he worked in the department 2 years ago. On numerous occasions, Lester went above and beyond the call of duty, answering our texts, emails and phone calls to help us solve many technical problems.  Lester is also an assistant coach on the Women's Volleyball team.
Team Awards
Each team has 3 main awards they give out, a top rookie, a coach's choice and an MVP. Some co-ed teams have a male and female MVP. Here is the full list of those winners.
LIVE STREAMING /Archived footage (of the presentations)
YOUTUBE Channel https://www.youtube.com/abbottislanders
Upcoming games
Just like you we're waiting on the green light from Dr. Arruda!
Prev